Free programs for the general public including beach walks, salmon tours, and rotating marine interpretive displays at our home office.
Get to know the unique plants and animals that inhabit the ecosystems of the Salish Sea through our guided walking tour series.  Led by staff biologists and trained volunteers, participants will learn about cultural significance, natural history, animal biology, ecological function, and human impacts on the environment. Participants will leave with greater awareness and respect for the natural world and tips on how to be a good steward for the Salish Sea.
With multiple habitats to choose from, all of our tours are: 
Located at public parks and beaches
1-2 hours in length 
Designed for all ages
Free (donations accepted)
Fun, educational & interactive
Learn more about our tour offerings below and check out calendar for upcoming tour dates. For more information, contact Education Director, Rachel Easton. 
More About Our Guided Walking Tours
Beach Walks
Salmon Tours
Wetland Tours
Historical Tours
Beach Walks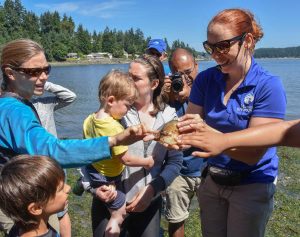 Summer (June – August)
Get to know the unique plants and animals that inhabit the beaches of the Salish Sea through the Get Your Feet Wet experience. Participants will learn about the anatomy, feeding habits, and the amazing adaptations of many of our local marine animals, as well as how to be a good GUEST at the beach. Animals we have encountered on our beach walks include:
Ochre, mottled, and leather sea stars
Moon snails and egg collar
Red octopus
California and orange sea cucumbers
Squid eggs
Salmon Tours
Wetland Tours
Historical Tours
Take an underwater journey of Gig Harbor Bay without getting wet (or needing special certification) through the Pier Into the Night experience.
While you stay warm and dry on the dock, our divers use an underwater video camera to live stream what they encounter below the surface. Staff biologists and trained volunteers identify the plants and animals that appear on the 10-foot screen in real time.
Animals we have encountered at past events include:
Feather-duster tube worms
Red Irish lorde, sculpin, and gunnels
Red rock, kelp, and graceful crabs
Stubby squid
Giant Pacific Octopus
And much more!
This program takes place on public docks in Downtown Gig Harbor on the first Saturday of the month from October-March. We encourage parents to place their children in floatation devices available for free on the dock for safety. Donations are always appreciated; suggested donation of $2 per person, or $5 per family. Bring a chair and dress for the weather, rain or shine!
Check our calendar for upcoming events or contact Education Director, Rachel Easton, for more information. 
Community scientists around the world help the scientific community collect meaningful data to learn about and help protect the environment. In 2013, Harbor WildWatch created a community science program to help establish a baseline of biodiversity within the Key Peninsula-Gig Harbor-Islands (KGI) Watershed.
In this program, community members are trained to collect a variety of data on our local beaches, estuaries, and creeks; including:
Marine invertebrates and algae
Sea Star Wasting
Nearshore forage fish
Young-of-Year Rockfish (Divers Needed!)
Spawning Chum salmon
Invasive and non-native plants
Water quality
To learn how to become a Community Scientist with Harbor WildWatch, please email our Science Specialist, Stena Troyer. Check our calendar for upcoming opportunities.
Are you a SCUBA Diver? Join our Volunteer Dive Team today!
Contact Stena Troyer to learn how to become a volunteer diver with Harbor WildWatch.
Skansie Interpretive Center
Opened in August 2014, the Skansie Visitor & Interpretive Center gives residents and visitors a chance to learn about the natural history of the Salish Sea. Located in the heart of downtown Gig Harbor, visitors of all ages are welcome to explore the unique exhibits offered at this historic waterfront location, including:
Whales of the Salish Sea Exhibit
100-gallon marine touch tank
Two, 30-gallon aquariums
Interactive Scavenger Hunt
Microscopes and much, much more!
This exhibit is appropriate for all ages and can take anywhere from 10 minutes to an hour to explore. So whether you have all afternoon or just a moment to spare, stop by the Skansie Visitor & Interpretive Center to learn more about the Salish Sea!
Private programs available throughout the year for a donation. Questions? Contact Education Director, Rachel Easton.Wh
Skansie Interpretive Center Hours
Summer (April - September)
Donkey Creek Chum Festival
Every year, the greater Gig Harbor community celebrates the return of salmon to our local waters. The Chum Festival serves to remind us that the quality of our water, and the habitat it supports, connects us all.
After a 2-year hiatus, we are pleased to bring this event back to Gig Harbor in 2022.
Saturday, November 19 & Sunday, November 20, 2022
11-4pm daily at the Harbor History Museum
Our goal is to bring people together to promote sustainability, sound environmental stewardship, preservation of our maritime history and culture, responsible recreation, habitat preservation, and shoreline restoration — one salmon at a time. Join us as we recognize new ways to improve and protect our waterways!
If you would like to be a vendor, please download the information packet below and complete the application form. Thanks to our generous sponsors, there is no fee this year for organizations to participate. Please join us in thanking them: ArtsWA, City of Gig Harbor Lodging Tax Advisory Committee; and Rotary Club of Gig Harbor.
If you have any questions, please contact your Festival Chair: Lindsey Stover.
2022 Chum Festival Schedule